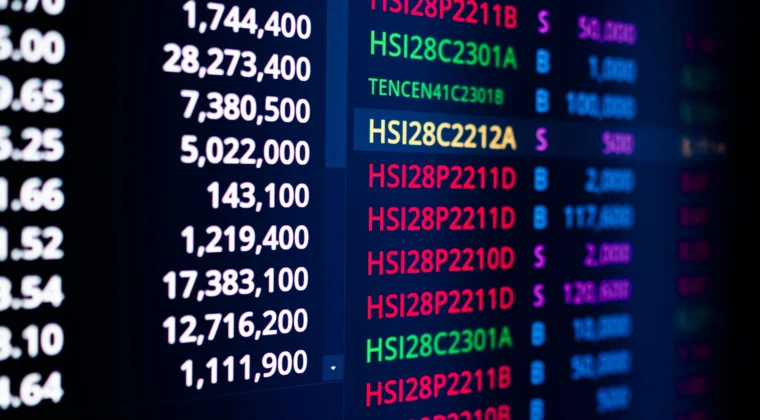 Financial trading refers to the buying and selling of financial instruments in the financial market, with the goal of generating profit from the price movements of these assets. It involves making decisions based on various factors, including market knowledge, market analysis and risk management strategies.
What Are The Financial Market?
A financial market refers to a marketplace where individuals, institutions, and organizations trade financial assets. It broadly refers to the trading of any securities, facilitating the transfer of funds between borrowers and lenders and allowing investors to participate in various trading and investment opportunities. In other words, the financial markets exist to enable liquidity, allow money to flow where it's needed.
Financial market plays a crucial role in allocating capital and resources within an economy. For example, they provide a mechanism for companies and governments to raise funds by issuing securities (e.g., stocks and bonds) to investors. These funds can then be used for business expansion, infrastructure development, or other purposes.
Types Of Financial Markets
According to different classification criteria, the financial market can be classified in many ways. Based on the type of financial assets traded, financial market can be categorized into following types:
Forex Market
The Forex market is also called Foreign Exchange Market, which is the largest and most liquid financial market globally. It involves the buying and selling of currencies. The primary purpose of the Forex market is to facilitate international trading and investments by enabling participants to exchange one currency for another. Exchange rates between currencies fluctuate based on factors such as economic indicators, interest rates, geopolitical events, and market sentiment.
Precious Metals Market
The precious metals market involves the trading of precious metals such as gold, silver, platinum, and palladium. Precious metals are valued for their rarity and industrial uses. They are traded as commodities and can be bought and sold through various exchanges worldwide. The metals market is influenced by factors such as supply and demand dynamics, global economic conditions, geopolitical events, and investor sentiment. Precious metals are often seen as a store of value and a hedge against inflation and currency fluctuations.
Commodities Market
The commodities market involves the trading of physical goods such as agricultural products (wheat, corn, soybeans), energy products (crude oil, natural gas), metals (copper, aluminum), and other raw materials. Commodities can be traded through futures contracts, spot contracts, and CFDs. The commodities market is influenced by factors such as global supply and demand, weather conditions, geopolitical events, and government policies.
Indices Market
The indices market refers to the trading of financial indices, focusing on trading derivatives linked to the performance of an index. An index is a basket or portfolio of stocks, bonds, or other assets that represents a specific market, sector, or asset class. Examples of well-known indices include the S&P 500, Dow Jones Industrial Average (DJIA), and FTSE 100. Investors can trade indices through financial instruments such as index futures, index options, and exchange-traded funds (ETFs). The performance of indices is influenced by the individual stocks or assets included in the index and broader market conditions.
ETF Market
The ETF market involves the trading of exchange-traded funds, involving buying and selling shares of investment funds that usually track an index. ETFs are investment funds that are traded on stock exchanges. They are designed to track the performance of a specific index, commodity, sector, or asset class. They provide investors with exposure to a diversified portfolio of underlying assets in a single tradable instrument. ETFs offer flexibility, liquidity, and transparency to investors. They can be bought and sold throughout the trading day, similar to stocks.
Share Market
The share market, also known as the stock market, facilitates the trading of shares or stocks of publicly traded companies. Investors can buy and sell stocks through stock exchanges. The stock market provides companies with a way to raise capital by selling ownership stakes to investors. Investors can profit from stock price appreciation and dividends. The stock market is influenced by company-specific factors, economic indicators, industry trends, news, and investor sentiment.
Bond Market
The bond market, also known as the debt market or fixed-income market, involves the buying and selling of bonds. Bonds are debt instruments issued by governments, municipalities, and corporations to raise capital. When investors buy bonds, they are essentially lending money to the issuer in exchange for periodic interest payments and the return of the principal amount at maturity. The bonds market provides a platform for governments and corporations to finance their operations and projects. Bond prices and yields are influenced by factors such as interest rates, credit ratings, economic conditions, and market demand.
Where Are The Financial Market Located
Some markets operate through what are known as exchanges, acting as a platform that facilitates trades and disseminates price information. Others, like the forex market, are decentralized and do not operate under any exchanges, this kind of market is called OTC (Over the Counter) market.
There are several International Financial Centers described by the International Monetary Fund located around the world. These include:
London, the capital of the United Kingdom, is renowned for its historical significance in global finance. London is the largest foreign exchange hub in the world by trading volume.
New York, the financial capital of the United States, is home to Wall Street, the world-famous financial district located in Lower Manhattan. It hosts the New York Stock Exchange, Nasdaq, and the headquarters of major financial institutions.
Tokyo, the capital of Japan, boasts a thriving financial district in the Marunouchi district, home to prominent banks and the Tokyo Stock Exchange.
Another metric used to assess the prominence of financial centers is the Global Financial Centers Index. This index ranks financial centers based on their competitiveness and overall attractiveness to global financial activities. According to this index, there are five International Financial Centers around the world:
New York continues to hold a dominant position, securing its status as one of the world's leading financial centers.
London remains a crucial player in the global financial landscape, leveraging its historical legacy, robust regulatory framework, and strong ties to European and international markets.
Hong Kong, known for its strategic location and vibrant financial market, its proximity to China and its role as a gateway between East and West have made it a hub for international finance and a bridge for investment flows.
Singapore, another key player, has emerged as a leading financial center in Southeast Asia, driven by its political stability, business-friendly environment, and advanced technological infrastructure.
San Francisco, in the heart of Silicon Valley, earns its place in the top 5 due to its significance in the global technology and venture capital sectors.
Participants in the Financial Markets
The world of the financial markets is a dynamic and complex ecosystem, and financial trading involves participants with distinct roles and motivations. There are some simple classification criteria of the main financial trading participants:
Investors vs. Speculators
Investors and speculators are both active participants in financial trading, but they differ in their approach and objectives. An investor is typically an individual or a company that regularly buys equity or debt securities with the primary goal of generating financial gain over the long term. Investors often focus on factors such as fundamental analysis, company performance, and economic trends to make informed investment decisions. They seek to identify undervalued assets and aim to benefit from price appreciation, dividends, or interest payments.
On the other hand, a speculator engages in trading various financial instruments, including commodities, bonds, equities, and currencies, with the intention of making higher-than-average profits in the short term. Speculators are often more concerned with price fluctuations and market trends rather than the intrinsic value of the underlying asset. They rely on technical analysis, market sentiment, and other short-term indicators to predict price movements and capitalize on short-term market inefficiencies. Speculators often assume higher levels of risk and may employ leverage to amplify their potential gains.
Stakeholders in The Financial Markets
With a basic understanding of what the financial markets are, it's time to get to know the various stakeholders.
Central Banks: A national bank that provides banking and financial services, as well as implement monetary policies for its country's government. Examples include the Bank of England (BoE), and America's Federal Reserve, also commonly referred to as the Fed.
Commercial Banks: Retail and investment banks that accept deposits from, and give loans to the public to make a profit.
Brokers: A person or a company that arranges transactions between a buyer and seller. An overwhelming number of brokers now are electronic brokers, which are usually digital platforms that facilitate these transactions.
Institutional Investors: Entities that pool money to invest in assets. These can include commercial and central banks, pension funds, and hedge funds.
Retail Investors: Individuals that invest in securities. The increase in low-to-none commission online platforms and unprecedented access to the markets have created a rapid rise in the number of retail investors in recent years.
Institutional Traders vs. Retail Traders
Another important distinction among financial trading participants lies in the classification of institutional traders versus retail traders. Institutional traders refer to large entities such as banks, financial services firms, and mutual fund companies that engage in substantial investments in the financial market. These institutional participants often manage significant portfolios on behalf of clients or shareholders and typically adopt a long-term investment horizon. Institutional traders can have a substantial impact on market movements due to the size of their trades and their ability to influence market sentiment.
Retail traders, on the other hand, encompass individual investors and small groups who participate in the equity markets. Retail traders usually have smaller capital bases and trade with their personal funds. They tend to be more actively involved in the markets, making frequent trades and seeking shorter-term opportunities. Retail traders often rely on online trading platforms and may employ various strategies, including day trading and swing trading, to capitalize on short-term price movements.
Types Of Retail Traders
In financial trading, there are various types of retail traders, each retail trader type has its own unique characteristics, time horizons, and strategies. Retail traders often choose the approach that aligns with their risk tolerance, investment goals, and trading preferences. It's important to note that retail traders may also employ a combination of these strategies depending on market conditions and their specific objectives. Here are some common types of retail traders:
Day Traders
Day traders engage in short-term trading, opening and closing positions within a single trading day. They aim to take advantage of intraday price volatility and make profits from quick price movements. Day traders often utilize technical analysis, chart patterns, and short-term trading strategies to execute their trades.
Swing Traders
Swing traders aim to capture medium-term price movements over a few days to several weeks. They analyze technical indicators, chart patterns, and market trends to identify potential entry and exit points. Swing traders hold positions for a longer duration compared to day traders and seek to profit from short-to-medium-term price fluctuations.
Position Traders
Position traders take a long-term approach, holding positions for weeks, months, or even years. They focus on fundamental analysis, macroeconomic factors, and long-term market trends to identify assets with growth potential. Position traders aim to profit from long-term price appreciation rather than short-term market fluctuations.
Scalpers
Scalpers are ultra-short-term traders who aim to profit from small price changes. They execute numerous trades within a day, aiming for small profits on each trade. Scalpers rely on fast execution, quick decision-making, and often use automated trading systems to capitalize on rapid price movements.
Algorithmic Traders
Algorithmic traders use computer algorithms to automatically execute trades based on predefined strategies. These strategies can be based on technical indicators, statistical models, or other quantitative methods. Algorithmic trading is prevalent in high-frequency trading and other quantitative trading strategies, leveraging speed and efficiency to execute trades.
Hedger
Hedgers are traders who use hedging strategies to mitigate or offset risks associated with price fluctuations in various assets. They take positions to protect themselves from adverse price movements and stabilize their cash flows or investment returns. Hedging is primarily focused on risk management rather than generating profits.
Analyzing the Financial Markets
When it comes to evaluating the financial market and making trading and investment decisions, two primary approaches stand out: fundamental analysis and technical analysis. Fundamental and technical analysis are essential tools in the investor's arsenal, offering distinct perspectives and insights into market behavior on the financial market. Fundamental analysis provides insights into intrinsic value, while technical analysis focuses on historical price patterns and market sentiment. By understanding and combining these approaches, investors can make more informed trading and investment decisions and navigate the complexities of the markets.
Learn More About Market Analysis
Understanding Volatility in the Financial Markets
The financial market is inherently dynamic, with fluctuations in prices, economic indicators, and investor sentiment leading to market volatility. Understanding the concepts of market volatility, risk, and implementing effective risk management strategies are essential for investors and traders seeking to navigate this ever-changing landscape.
Market Volatility And Risk
Market volatility refers to the rapid and significant price changes witnessed in the financial market over a given period. It can be caused by various factors such as economic indicators, geopolitical events, changes in investor sentiment, and unexpected market shocks. Market Volatility introduces both opportunities and risks for market participants. Market volatility is directly related to market risk, as heightened volatility increases the likelihood of substantial price swings, potentially leading to financial losses.
Risk Management
While market analysis techniques are crucial for making informed trading and investment decisions, risk management plays a vital role in mitigating potential losses in market volatility. Effective risk management involves identifying and assessing various types of risks, such as market risk, liquidity risk, credit risk, and operational risk, among others. By carefully analyzing these risks, market participants can determine the potential impact on their positions and develop appropriate risk mitigation measures. This may include diversifying investments across different asset classes or sectors, setting stop-loss orders to limit potential losses, and regularly monitoring and adjusting risk exposure based on market conditions.
Additionally, risk management also entails staying updated with relevant market news, economic indicators, and geopolitical events that can significantly impact the financial market. By staying informed, traders and investors can proactively respond to market changes, adjust their strategies, and effectively manage their risk exposure. Ultimately, a comprehensive risk management approach is essential for navigating the unpredictable nature of the financial market and achieving long-term success in trading and investing.
Learn More About Risk Management In Trading
How Can I Start Trading?
Financial trading requires a comprehensive approach. Before developing a well-defined trading and investment decision, understanding the financial market that mentioned above is crucial.
After understanding the markets, it's time to decide on a platform through which you can conduct trading though. A Contract for Differences broker will give you easy access to a wide range of financial markets at low costs, making it a good place to start. CFD brokers like PU Prime should also offer leverage, allowing you to begin trading with lower capital.
Assessing your own goals, risk tolerance, and trading preferences to determine which trading style aligns best with your profile is also necessary.
Before you begin actual trading, be sure to conduct the appropriate analysis and implement effective risk management strategies to make sure that your trading strategies match your goals and preferences.
Start Trading With PU Prime Live/Demo Account