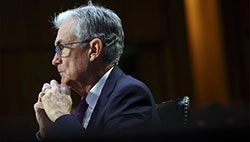 On January 5 (Wednesday), the United States announced the December ADP employment data. According to the ADP private payroll numbers for December, 807,000 jobs were added compared to estimates of a figure of 410,000 and the previous value of 534,000, the largest increase since May 2021.
The minutes from the Fed's December FOMC meeting on Wednesday showed the concerns from Federal Reserve officials about the ongoing supply chain issues which may reach its bottlenecks in 2022, and the labor shortage issues will also continue to hamper the economy and drive up inflation for longer than previously expected.
Brien Lundin, editor of Gold Newsletter said that "The Fed minutes were hawkish, showing greater concerns that inflation would be persistent and generally indicating an accelerated schedule for rate hikes." On the other side, as tracked by CME Group's Fed, the possibility that the Fed would raise the interest rates in March for the first time since the pandemic's onset rose to greater than 70%.
Post Market Outlook
Spot gold fell on Wednesday as U.S. bond yields rose sharply after the release of the minutes of the FOMC meeting. Records indicated that the Fed may need to raise interest rates earlier than expected to curb inflation.
David Meger, director of the metal trading department of High Ridge Futures said that the gold market has fallen from a recent high due to the FOMC meeting, and the rise in U.S. bond yields has put pressure on the gold market. However, the underlying support of the gold market is the ongoing inflationary pressures and pandemic concerns have brought some hedging needs.
In general, the gold price is currently under pressure from the hawkish tone of the Fed pushing ahead the schedule to raise interest rates. In addition, the coming US NFP data may also show a sign of growth, which has caused the gold price to continue to be under pressure on the last two trading days of this week.
In addition, please pay close attention to the Nonfarm Payrolls (NFP) announced on Friday, January 7 at 15:30 (GMT+2). As a friendly reminder, pay close attention to market changes, control your positions, and manage your risk well.