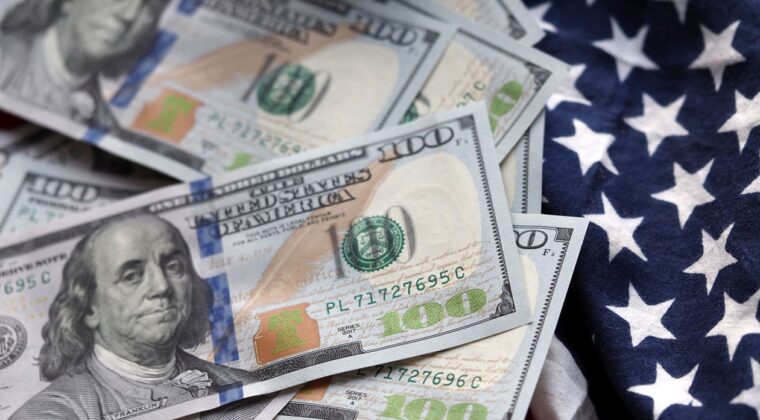 Focus has shifted from the US debt ceiling back to macro data and the Fed's benchmark interest rate
The dollar experienced its largest daily decline in almost a month as U.S. manufacturing data and statements from Federal Reserve officials reinforced expectations of a potential interest rate hike delay. Meanwhile, the euro rebounded from a two-month low after European Central Bank (ECB) President Christine Lagarde emphasised the need for further policy tightening. The dollar index dropped 0.547% to 103.580, down from a two-month high of 104.7. Fed officials hinted at a possible rate hike delay at their upcoming meeting to evaluate the impact of previous tightening measures. Market indicators suggested a 32% probability of a 25 basis point rate increase in June. Philadelphia Federal Reserve President Patrick Harker recommended against raising rates despite slow inflation reduction. U.S. private payrolls data indicated job growth surpassing expectations, potentially influencing the Fed to maintain elevated rates. The U.S. manufacturing sector contracted for the seventh consecutive month, but employment reached a nine-month high. The euro rose 0.64% to $1.0757, driven by reduced inflationary pressures. The ECB was expected to implement two rate hikes in June and July. The pound and Australian dollar also gained against the dollar.
Senate Passes Bill To Raise Debt Ceiling, Averting Default Risk
The Senate has passed a bill to raise the debt ceiling and cap government spending for two years, sending it to President Joe Biden for signing. This comes just three days before the risk of the U.S. facing its first-ever sovereign debt default. The bipartisan agreement received support from both Democrats and Republicans, surpassing the 60-vote threshold in the Senate. The swift action was driven by the approaching June 5 deadline set by the Treasury Department. Treasury Secretary Janet Yellen praised the bill, emphasising its importance in protecting the United States' financial leadership. The bill resulted from a compromise deal negotiated by House Speaker Kevin McCarthy and President Biden, providing conservatives with ideological victories in exchange for their votes. The focus now shifts to appropriations and determining how the capped funds will be allocated in the upcoming year.
Asian Equities Rise On China Tech Gains And Fed Rate Hike Pause Expectations
Asian stocks rallied on Friday, with Hong Kong-listed technology companies leading the gains. Traders were optimistic as they anticipated the Federal Reserve to pause interest rate hikes in June. Japan, Australia, and mainland China also saw positive moves in their respective stock markets, while US futures showed a slight increase. The tech sector's strong performance on Wall Street, combined with news of Congress passing legislation to prevent a US default, contributed to the upbeat sentiment. Despite concerns about Chinese growth, Hong Kong's Hang Seng index rebounded over 3%. South Korea's Kospi index approached bull market territory, and India's Sensex neared an all-time high. The dollar weakened, and traders were focused on the monthly US jobs report for insights into the Fed's tightening policy.